wah . i really got a super-duper fucked up biological family huh?
1st bro - shotgun.
2nd bro - the only one who got married off PROPER, but even so, 1 week before nikah, his hantaran got "LOST". who helped him? MY PARENTS. and now what's he doing? ignoring my parents, saying i'm NOBODY in their family. fuck you sak.
3rd sis - no comments. giler nyer kakak.
4th - me. same stubborn kid who follows 3rd sis attitude. hopefully i wont follow her footsteps.
5th sis - getting married next month. she's only fking 19 end of this year. and even so, i got to know about this news through facebook feeds.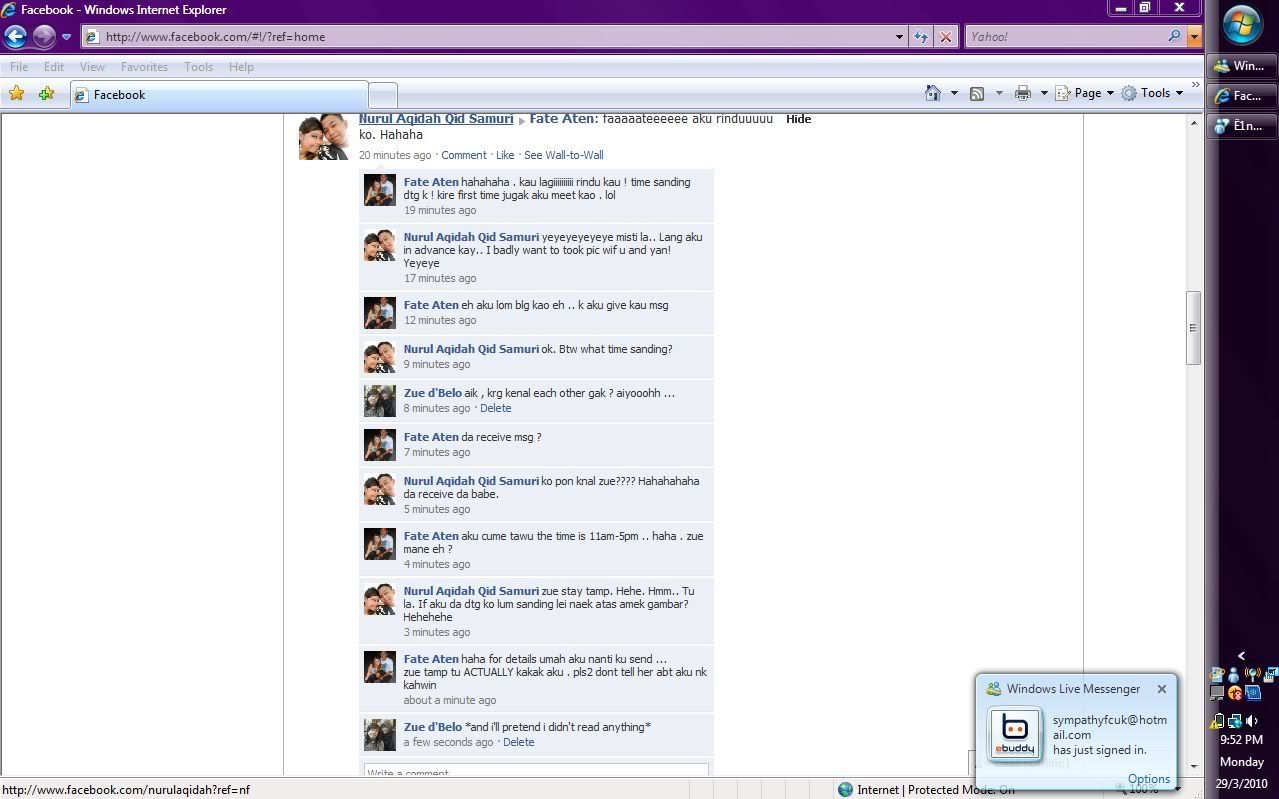 "pls2 dont tell her abt aku nk kahwin"
kape? OPPS SORRY BABE DAH TERBACA. after which, qid immediately asked boyf about this. and since i haven't really told boyf about my "ACTUAL" family, boyf was very very very lost lah kan. the only thing that boyf knew bout me, was me being an adopted child. but seriously, MALU ah nak bobal pasal family cockup.
eh baek uh eh. mentang2 arwah bapak korang dah takda, beh nak ketepikan kitorang ah? alasan tak jempot kononnyer, confirm my side will mengata. i wanted to keep this to myself but i just can't. anything that has to do with MY family, i will tell. otherwise i will just feel uneasy. and guess what, my dad already knew about that.
after reading on, more like stalking actually, shotgun lagy ah kan. hanyot per, darah daging aku? tsk. bukan nye aku nak jaga tepi kain orang ah kan, so what kalaw laki-to-be kau tu, SRB? baru 3 bulan masok ns, lama lagy mau kayoh whey. good luck to your end of teenage life. i would have prayed for your well being if i was treated nicely, but look, nothing's fucking changed.
seriously lah, seriously i dont wanna fucking care about them. but shits gonna happen coz at the end of the day i'll still need abg erfan to be my wali if i get married one fine day, insyallah. haiz.
alhamdullillah i have someone. who accepts me for who i am, who accepts me for who i was. and thank god for my parents permission and blessings.but, i still want him to be my 2nd rider please. and i still want to be his bike's 2nd rider, please. nak jugak rasa bawak kr. hehx.